CASE STUDY:
Green Instruments is an international company operating in the field of environmental
technology and specialising in the areas of measurements, analysis and security with regard to gas, smoke and oil – both on land and offshore. Based in North Jutland, Denmark, the successful company is also skilled in drawing on its partners' competences so as to bring large projects safely home.

Green Instruments proved just how effective this approach is when the company called on World Translation's graphic department for a helping hand. On an assignment that had nothing whatsoever to do with translation.
"We've previously commissioned World Translation
to translate all kinds of marketing material for us.
They know us. They know what we stand for and
where we're coming from. So it wasn't a difficult decision
when we were looking for a partner to help us showcase
our new identity. Working closely together, we came up
with an excellent result."

Henriette Mogensen, Marketing Manager at Green Instruments A/S

BRIEF:
CONVERT NEW VISUAL IDENTITY
FROM IDEA TO REAL LIFE


After Green Instruments had completed a creative process focused on renewing the company's visual identity, it was time to take on the more challenging task: implementing the new visual identity most efficiently in all the company's channels and in all materials.

The information material from the company comprised manuals, leaflets, cover sheets, brochures, handbooks and more, and the layout of the entire portfolio of files had to be
updated to match the new visual identity.

The new graphic identity was defined through new colour codes, typefaces and general
guidelines. A short style guide and a few introductory conversations with Green Instruments' marketing department served as the basis for the launch of the project "Update our look".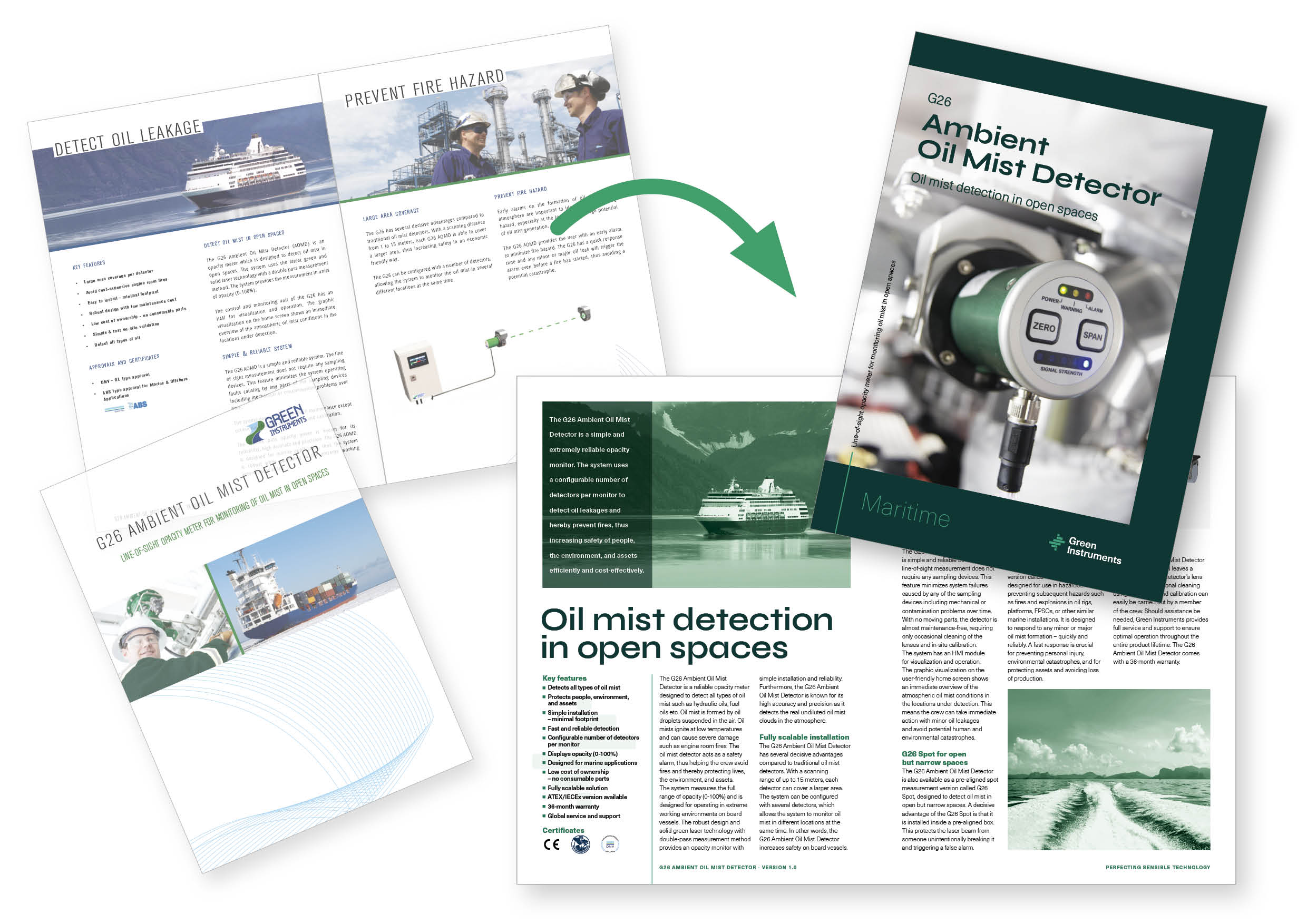 REQUIREMENTS:
AN INDEPENDENT PARTNER,
RICH IN INITIATIVE AND SKILLED
IN GRAPHIC DESIGN
As a run-in to the graphic work on the manuals and brochures, the English texts were put through a round of proofreading and text optimisation to ensure that the content was neat, clear and linguistically professional before work started to update the layout. This work was
handled by one of World Translation's skilled freelance translators who is also a qualified
technical writer.
The expert desktop publishing team at World Translation then stepped up to overhaul the layout of Green Instruments' brochures. This kind of complete review and update in connection with a new visual identity can drag on if just one employee, or a small group, is tasked with taking care of everything, down to the smallest detail. So it made sense for Green Instruments to call on a partner with the right competences to lend a hand.
SOLUTION:
OUTSOURCING OF LAYOUT
AND PROACTIVE SPARRING
"WHEN LIFE HAPPENS"
Over the course of just a few weeks, the graphic team at World Translation succeeded in
updating the layout of seven brochures to ensure they match the client company's new visual identity. Taking the Green Instruments style guide as the starting point – and according it full
respect – the layout specialists prepared a professional and detailed set-up for the existing brochures, as well as those that are yet to be written. The work took place in close
dialogue with the marketing and technical departments at Green Instruments.
The project for the first set of brochures came with a relatively tight deadline because the new brochures had to be printed in time for a scheduled trade fair. As the conditions then changed on account of the Covid-19 situation – meaning it was no longer appropriate to bring hard copy manuals to an expo stand – World Translation's layout specialists reformulated the brochure contents into a PowerPoint presentation for screening at the trade fair. With the same visual expression as the new identity in general. Of course.
The project was so successful that a long-term working relation has now been established
between Green Instruments and World Translation's graphic experts. Green Instruments is more than happy to draw on the skills and competences of the layout specialists as a team of external experts. They are literally only a phone call away!
ABOUT GREEN INSTRUMENTS A/S
Based in North Jutland, the Danish company develops and manufactures hi-tech measurement and analysis equipment for sectors such as the marine industry. Green Instruments is a leader in its chosen field, with a product portfolio that includes smoke and oil vapour detectors, oxygen meters, emissions meters and water monitoring systems.


At World Translation, our aim is to be more than just another supplier. Rather, we want to serve as an active sounding board for our customers. Our project managers are experts in making your texts shine in all languages. And our layout specialists ensure that the graphic packaging is top notch and sends out the right signals – irrespective of whether the work is to be done in InDesign, Microsoft Office suite, Illustrator, Photoshop, AfterEffects or any other DTP software ... You get the picture.