Do you actually know how to get the best translation for your purpose? Because there is more to translation than just translation.

When you translate from one language to another, it is not enough to work through the text line by line. You often need to adapt certain elements of the source text to take into account cultural considerations associated with the target market.

Here at World Translation, we work with a broad network of expert freelance translators around the world; skilled professionals who know the ins and outs of the different languages and are specialists in the subject matter and type of text.
WHAT IS LOCALISATION?
Localisation is the linguistic, cultural and stylistic adaptation of a text for a specific target group in order to ensure that all the cultural requirements are met. In addition to linguistic adaptations, this may also include adaptation of units of measurement, date formatting and, where appropriate, the layout.
The purpose of localisation is for readers to feel that the content has been created in their language rather than "simply" translated from another language.
Click here to find out more about localisation.


Example of localisation:

Localisation is often associated with written material, and may refer to the contents of websites, documents and apps. However, localisation can also be applied in other areas – for example to a given product.

An everyday example of localisation is to be found in the automotive industry. All cars come with a steering wheel (fortunately!), but depending on where in the world they are sold, the driver's side may be on the right or the left. This is defined by the legislation and regulations in effect in the country in question.

Similarly, all cars are fitted with a speedometer, which, depending on where you are in the world, will show your speed in mph or km/h. In this case, it is the unit of measurement that has been adapted to the local market.

As such, localisation is relevant not only when we look at a text, but also in the visual impression that accompanies it. And, as demonstrated in the example, when we are to launch a product onto a new market.
HOW TO AVOID THE 5 MOST COMMON LOCALISATION ERRORS

Localisation can be a complicated process. A good deal of knowledge is required to enter a new market, so it is important to be aware of the numerous pitfalls that may exist. Find out more about the most common types of errors to avoid when localising your content: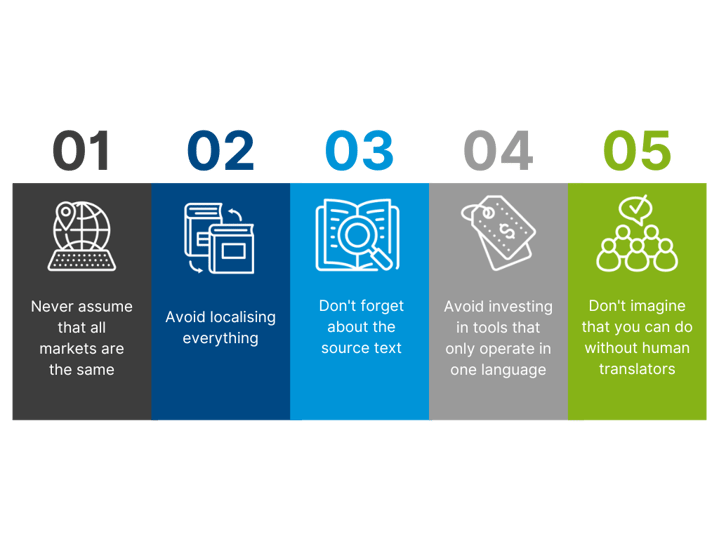 1. Never assume that all markets are the same
The whole point of localisation is to target a specific market, but what people often fail to understand is that it has just as much to do with reaching a specific target group in that market. Localisation is firmly rooted in culture, so it is important to specify not only the language used on the market, but also the version of that language used in the relevant location. For example, it is pertinent to differentiate between British and American English if you have set your sights on selling products to the anglophone market. The two variants feature different spelling rules, different slang terms and different frames of reference.
Example
: If you are looking to brand a torch on the English-speaking market, there is much to gain by localising the translation. This is because Americans typically use the word flashlight for what their British counterparts call a torch.

2. Avoid localising everything
If you localise everything, there is a risk that you will miss your target everywhere. A common misconception is that by localising everything, you can provide everyone with an equal experience, but that is not the case. Far from it, in fact. It is often more effective to operate a local, country-specific strategy rather than to copy/paste a strategy that works well on your original market. In other words, applying a more strategic approach that doesn't involve localising everything is the quickest path to success in localisation.

3. Don't forget the source text
As mentioned previously, localisation has to do with adapting content to a new market. So it is important not to ignore the intended purpose of the content itself. Correct localisation of content ensures that the content continues to communicate the same message to a local, country-specific target group. In this context it is essential to know and understand your target group so as to avoid inappropriate localisation.
Example
: When Pepsi was to launch its new slogan – "Pepsi Brings You Back to Life" on the Chinese market, the catchy strapline was (mis)translated as "Pepsi raises your forefathers from the grave" ... Oops!

4. Avoid investing in tools that only operate in one language
Digital tools such as CMS systems can play a major role in running a business. So it is important to choose the right ones if you have ambitions to expand globally. Multi-lingual systems allow you to administrate your content in several languages. If your company is growing, it is crucial not to have to waste time and money switching to new tools. Buying the wrong tools can have a huge impact on your company's capacity to provide a high-quality, fully localised experience.

5. Don't imagine that you can do without human translators
Machine translation can be a useful tool, with its capacity to translate large volumes of text in just a short time without human intervention. Nevertheless, you should be aware that there are many aspects that machine translation software cannot yet take into account, such as the context in which the text is to function, linguistic subtleties and cultural considerations. That is why human translators are simply indispensable when it comes to localisation and launch on a new market.
Need help with localisation?
We can help translate your website, brochure, app or other content for use on all your relevant markets. Our translators are skilled in localisation; not only are they highly knowledgeable in their chosen field, but they are also used to working with localisation in the language combinations you require.